"Eliza is a true healer. Her warmth and compassion for others is apparent. Her amazing journey is meant to be shared with the world and we are so happy her story is being told and enlightening others at the same time. Wisdom is the knowledge that comes from understanding one's true nature with the Divine, and knowing how to share that knowledge. Thank you, Eliza, for the gifts you are bringing to the world." …Cindy Lora-Renard and Gary Renard – author of best seller The Disappearance of The Universe.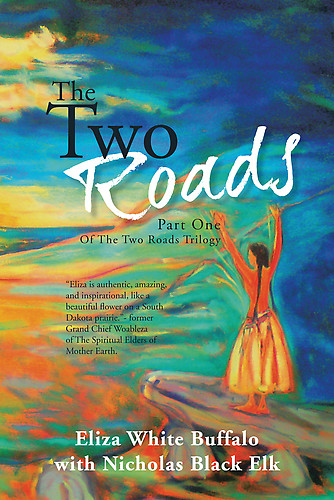 ***
This Northern Irish woman rose into her power and compassion as a shaman. Nicholas Black Elk, the now deceased Lakota elder is her inner guide and twin… flame. Many people send me there books to read and review, few are as well written and captivating as Eliza's book. You really will be engrossed in the power of her story. I give it my highest endorsement……Jonette Crowley, best selling author of The Eagle and The Condor.
***
Eliza's writing is fresh, clear and heart-centered. Through the wisdom of her characters she taps into truth that touches us all. She connects with the native American elder Black Elk and shares his compassion and teachings. You will be charmed by the story!….Jonette Crowley, Author of The Eagle & The Condor
***
So – Captivating and Heartfelt….I read it in three days -there was no putting it down….Ellen House
***
A profoundly moving book that flows beautifully…. it tells us that miracles can happen and I went on a journey myself reading it….Aitchington.
***
For anyone who has had a difficult childhood or life this book offers a spiritual deliverance like no other….Beacon Of Light
***
The love and forgiveness is just emulating from the pages in the book. It is just so hard to put down, you get carried away in the energy as it becomes part of you as you read….Craftymuso
***
There are few books that create a feeling within you that you are actually living the story. The Two Roads is one of these books…Denny Holmes
***
It makes one think about our purpose here on earth and gives us hope for the after…Antonia Nails
***
The Two Roads" will change you. Embrace this truth and drink it in. Let your heart rejoice! Cathleen Hulbert, Author.
***
Very intimate and profoundly awakening… Michele B Roth
***
The gripping and eloquent writing and level of engagement were icing on the cake of this transformative book. Book Two is wonderful as well, so don't stop with this one! Kristina Kay Mascher
***
As "The Two Roads" cross the reader realizes how the intersecting of sorrow and discovery-of-self through connecting to something
***
'As I have danced upon the Earth, so shall you'
***
beyond suffering, the Divine Essence of all life that will not be denied, not only heals you, but also heals the world….Deane
***
So well written and engaging that I could not put it down once I started reading it…. Helen from Chicago
***
One of my favourite books of all time….Leanne M Williams
***
Impossible to put down…ultimately uplifting and inspiring and packed with so many insights…Martha May
***
Eliza is brave and true-hearted…an inspiration….Glory V
***
Gripping…a call to rise up, to stop playing small, to step up to the mark. I felt that the book was issuing me with a challenge, to truly be…to truly live. Karen McLaughlin
***
"The Two Roads" is a heartfelt novel full of suspense, mystery and soul awakening inspiration! I truly loved reading this book and honestly could not put this story down after completing the first chapter! The main character Rose will pull at every one of your heartstrings from the moment you "meet" her! Roses' life journey from toddler through adulthood is subjected to petrifying abuse. Her story takes you on her road from darkness and leads you into her mystifying world that taught her how to transform her painful life into the transparency of pure unconditional love…
Thru Rose's darkest moments she realizes she has a powerful loving spirit guide, Nicholas Black Elk, the Lakota healer and profound visionary whom once lived his life as a Lakota elder. Besides being her spirit guide, she discovers he is also her twin soul. Rose and her spirit guide Black Elk will also validate how compassion and love lies within each of us; yet it is a matter of choice, trust, and faith. You will experience where spirit and physical life meets and gain profound insight and truth through Roses' very own spiritual awakening as a shaman and as a powerful spiritual being. I truly enjoyed reading this uplifting story; I believe it will fill your soul with hope, faith, love, and truth….and as it is portrayed in "The Two Roads" these are blessings that are available to each one of us regardless of our life's experiences! I highly recommend joining Rose on her journey from darkness to light; you will not come back the same person! Denise Campbell-Kummer
***
I was deeply affected by 'The Two Roads'. Within it I heard a call to rise up, to stop playing small, to step up to the mark.
***
On one level it's a great page-turner. I devoured this book. Rose and Lissy's interlocking storylines are gripping. But on another level, I felt it subtly infiltrate me, stirring up the mouldy old dust of everyday living, revealing to me my own bright shiny soul, glinting away under all that debris. I felt that the book was issuing me with a challenge… to truly be, to truly live.
***
While the book has some sad and deeply touching moments, I found it to be ultimately uplifting and inspiring. I find it hard to pin down why exactly it moved me so deeply, but I feel as if I absorbed the book, or maybe it absorbed me, and it has permeated me completely. Karen McLaughlin
***
In part 1 of The Two Roads Trilogy Eliza White Buffalo weaves a fascinating and enthralling story of the immense pain and suffering of an abused child and her escape into her spiritual Self where she meets one of her spirit guides, Black Elk, who helps guide her intuitively out of the dark existence of her childhood. The mixture of suffering, hope and, ultimately, redemption makes this all too real story a must read … Tommy Suggs – author of From a Student's Notebook series and founder of Sweetwater Education Foundation.
***
"The Two Roads" will change you. Embrace this truth and drink it in."…Cathleen Hulbert, author of The First Lamp
***
Though English isn't my native language I've read this book from start till end in just a few days. I'm was deeply impressed by Rose, and by the incredible and beautiful story that is presented in this book. As I'm an author myself I know by experience the reluctance of publishers to publish spiritual novels like this one. They rather publish educational books instead, with pictures, schemes, results from research and testimonials to support it all.
But Eliza, together with Nicholas Black Elk, proof with this book that this kind of information can't be teached by presenting a documentary text, summarizing facts and concepts. Because how do you teach… Love? To make a reader really understand the true meaning of such transformation processes, it's needed to immerse him or her in it, so the moments of desperation and joy are shared with Rose. Only then one slowly starts understanding what's really going here on a deep soul level.
Rose's experiences are unique by the intensity of them, but in way we all undergo such processes, and so often we then cry out to the Heavens above why this is happening to us! Eliza and Nicholas Black Elk give you an answer, not by simply telling you the answer, but by letting you experience it yourself. That way you'll never forget it, because it becomes part of you. In my eyes that's what makes this book so very special, combining education with a thrilling story.
….Wim Roskam, Holland.
***
Oh how I enjoyed this book and from the first chapter I did not want to put it down. When I had to I could not wait until I could pick it back up again. Although the book is 660 pages or so I flew through it even though I was working 11 days straight at a trade show.
***
I completed the book on a take a break week end in Blue Ridge Georgia this past week end and I really did not want it to end. There are few books that create a feeling within you that you are actually living the story. The Two Roads is one of these books. You become so close to the characters and the realization of how closely our lives are intertwined. A beautiful book that takes you from tragedy to triumph and truly shows us the way home. Eliza White Buffalo shows us how to utilize our day to day experiences to create a path to clarity and truth all in the form of a novel. Simply the best!
***
I highly recommend reading this book any time but also it would be a great one to take on vacation with you. It is truly captivating and I am anxiously awaiting the next one in the trilogy.
***
Hurry up Eliza! …Denny Holmes.
***
I first heard of the THE TWO ROADS BY ELIZA WHITE BUFFALO almost exactly a year ago now
The person who recommended it, no INSISTED I read it, is Jonette Crowley, author of an amazing book called The Eagle and the Condor and a mystic teacher known by some as the spiritual female Indiana Jones…..She explained that Eliza is Irish but yet is a shaman taught by Nicholas Black ELK a famous Lakota holy man. Well it took me a while but eventually the title niggled at me till I bought it. The timing was in fact perfect.I recieved it on a Friday when I had a weekend to curl up with no interruptions and Elizas book for company. Wow! I couldn't put it down again till I had read it all by the early hours of Monday morning! Let me tell you, I was transported to many places many times many people that lit tiny lights of inspiration right to every part of my being..I laughed , cried, raged, remembered and loved my way through this mystic novel which can be read on so many levels that my head spun! If you want some entertainment, enlightenment, healing, fun and romance as well as a Female shaman who lives and works from a place of highest integrity joy and unconditional love this book was written for you.
***
The beauty is that simply reading this wonderful book you are simultaneously healed on many levels.
PART TWO OF THE TRILOGY IS COMING OUT soon, I truly cant wait.
Thank you Eliza from for being who and what you are and for all the gifts in THE TWO ROADS…Mena McLoughlin Aupy